The Flame in the Flood for Switch launches October 12
First footage of the Switch version.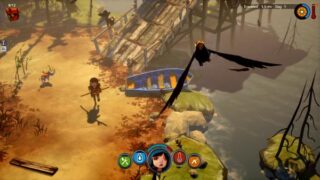 The Flame in the Flood will launch for Switch via the Nintendo eShop on October 12, developer The Molasses Flood and publisher Curve Digital announced.
Here's a brief overview of the game, via The Molasses Flood:
The Flame In The Flood is a bleak but beautiful rogue-lite set upon a treacherous, procedurally generated river. With the help of your trusty dog, Aesop, The Flame In The Flood tasks you to make the most of your surroundings by foraging, hunting and scavenging your way through nature and the remains of society. With an evocative, homespun art-style and lilting, original soundtrack by Chuck Ragan, survival has never been this enjoyable.

Drink in the delicate beauty of post-societal America before the perils of reality begin to bite. Wild animals, the natural elements and the great, winding river all pose unique threats in a game where survival is achieved through a mix of smarts and resourcefulness. Playing as intrepid wanderer, Scout, you must feed and clothe yourself from the land and whatever else you find along the way. Craft equipment and traps, upgrade your makeshift raft and brave the rapids, all set against the stark majesty of the game's forgotten world.
The Flame in the Flood first launched for Xbox One and PC on February 24, 2016. A PlayStation 4 version, The Flame in the Flood: Complete Edition, was released on January 17, 2017.
Watch the trailer for the Switch version below.