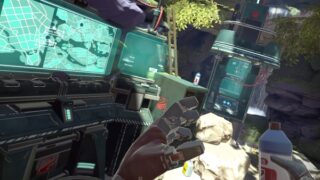 Fast Travel Games has announced Apex Construct, an action adventure game built exclusively for virtual reality. It will launch first for PlayStation VR, followed by HTC Vive, Oculus Rift, and Microsoft Mixed Reality Headsets.
Here's an overview of the game, via Fast Travel Games:
An action adventure game built exclusively for virtual reality gamers, Apex Construct is set in a shattered future where merciless robots prowl the world as a result of mankind's reckless experiments. Equipped with an upgradable a bow and arrow, players will explore this world to uncover its secrets while defending themselves from the nightmare machines that dominate the world of tomorrow.

As the last human alive in this dystopian future, players will need to use both their wits and combat skills if they want to survive. The puzzles that players encounter will reveal more of the story, told in a world where two powerful AIs are locked in a drawn out conflict. Using motion controllers, players will pick up a bow, firing arrows through a fluid, natural motion that simulates the mechanics of real world archery to destroy robots and overcome environmental challenges. Some arrows even offer quite the punch, dealing electrical or explosive damage when they pierce their target.
Watch the announcement trailer below. View the first set of screenshots at the gallery. Visit the official website here.