Earth Defense Force 5 details Aranea and Giant Outpost enemies
Two new enemy Primers introduced.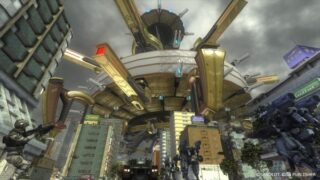 D3 Publisher has updated the official website for Earth Defense Force 5 with information and screenshots on two new enemy Primers, Aranea and the Giant Outpost.
Get the details below.
■ Primers

◆ Aranea

A newly confirmed aggressive creature. Unlike the aggressive creatures confirmed before, which mobilize by creating swarms, Aranea is often witnessed alone. Similar to the Aggressive Alien Species β, Aranea spins webs containing acid, which it uses as a weapon. Its webs are much stronger and more dangerous than that of Aggressive Alien Species β. Furthermore, it can shoot its webs a long distance, which is how it catches its prey.

Aranea uses its webs to build a huge, net-shaped nest. This serves as a trap to entangle and harvest its prey, which just touching simply prevents any form of movement. In the areas where Aranea's appearance was reported, a net was almost always confirmed. In short, Aranea can be considered a creature that uses its net to catch its prey. On Earth, Aranea's prey is humans. Therefore, Areanea is a dreadful threat to humanity.

◆ Giant outpost

A giant structure that came flying from the sky. It simultaneously appeared in five different locations across the world. It descends upon town areas and serves as an alien outpost. Its total width is 520 meters (650 meters including its giant turrets) and its total height is 320 meters.

Several operations, including attacks by aircraft, have already failed. Currently, it can be confirmed that the surroundings of the outpost are occupied by aliens both in the air and on the ground. A plan of attack has been drafted up twice, but it is difficult to attack from the skies, and it is thought that the only way to prepare for the ensuing damage is to deploy ground forces.

Although its existence as a land base is dreadful, its true value seems to be in its advanced anti-aircraft interception system. The top of the base is equipped with numerous anti-aircraft turrets, which have shot down countless aircraft flying around it. Several operations have already failed. Its body is armed with many batteries of various sizes, disabling approach from land or air.

Surprisingly, the outpost was confirmed to be an mobile fortress for the aliens. Its legs expand and can move as if it is walking. Since it stands when it moves, its body rises to the air. According to reports, the outpost is equipped with numerous turrets on its lower parts. It is speculated that these batteries are extremely powerful laser weapons. When its legs are expanded and it is standing, its total height is about 420 meters.

Fury Cannon

The outpost's main battery. A three-cannon, super huge gun. Its power is tremendous, and it can reduce town areas to rubble in a single blow. Many units have already fell victim to its blast. It is the most dreadful weapon the outpost possesses. Currently, the only possible counter-plan is for the ground forces to advance to the Fury Cannon's blind spot. There is great risk in doing so, but it would appear that there are no other options than to try this for the next operation.

Battery No. 1

The outpost's secondary turret. There are six cannons on the outer circumference of the top part. Although it is a beam battery with tremendous destructive power, its biggest problem is the guided missile pods on its side. The missile pods are stored in the gun, and the firing ports open and close when attacking. Guided missiles detect the objects nearing the outpost, approach them, and explode.

Battery No. 2

A large-scale, ground-to-ground plasma battery. It shoots green plasma bullets. Since these plasma bullets cause extensive damage, it is a major obstacle for ground forces. Its destruction is one of the top priorities in the next operation.

Battery No. 3

A ground-to-ground plasma battery. Countless of these batteries are installed on the outer circumference of the outpost. It would appear that it is a major obstacle for ground forces.

Battery No. 4: Red Ray

Continuously fires a red beam.

Battery No. 4: Blue Ray

An anti-aircraft beam battery. It would appear that it attacks aircraft in the sky.

Battery No. 5: Blue Ray

A laser battery on the bottom of the outpost. It fires a blue laser.

Battery No. 5: Green Ray

A laser battery on the bottom of the outpost. It fires a green laser. The green laser battery is said to be even more powerful than the blue laser battery.
Earth Defense Force 5 is due out for PlayStation 4 in Japan on December 7.
View the screenshots at the gallery.