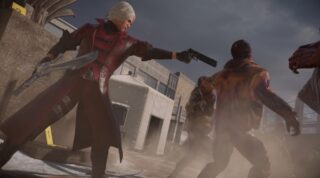 Capcom has released a new trailer and set of screenshots from Dead Rising 4 showcasing the new "Capcom Heroes" mode debuting alongside the release of the PlayStation 4 version.
Here's an overview, via Capcom Unity:
In Capcom Heroes for Dead Rising 4, Frank West wears over a dozen outfits pulled from the Capcom archives and performs signature special attacks based on some of our greatest heroes. Capcom Heroes is an alternate way to experience the Dead Rising 4 story mode. While progressing through missions and exploring the world, players will discover arcade machines. Interacting with these arcade cabinets lets the player equip a new "Hero Outfit" that gives Frank the powers and abilities of that character.

While we aren't announcing all of our featured costumes today, we can confirm that Frank will be able take on the look and abilities of:

Cammy from Street Fighter
X from Mega Man X
Sissel from Ghost Trick
Adam "The Clown"
MacIntyre from Dead Rising
Dante from Devil May Cry
"Classic" Frank West from Dead Rising
So many more!

Frank will now be able to fight through the zombie hordes and uncover what's behind the latest outbreak in Willamette while wielding Adam's dual chainsaws, Dante's Rebellion Sword or X's signature X-Buster and many more of Capcom's most powerful weapons.

In addition to using the arcade machines, Frank can purchase some outfits from vendors and unlock others by finding collectibles hidden throughout the world. Players will also want to look for "Hero Training" side missions which award outfit variants and upgrades.

The design team has packed even more Capcom goodness that encourage players to photograph posters in the environment and loot treasures to access interesting game trivia and art.
"Capcom Heroes" will be included with Dead Rising 4: Frank's Big Package for PlayStation 4, and launch as a free update for the Xbox One and PC versions of Dead Rising 4 on December 5.
Watch the trailer below. View the screenshots at the gallery.