A-Train Express first details, screenshots
A-Train returns to PlayStation on December 21 in Japan.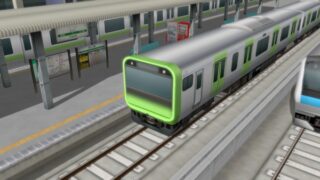 Artdink has released the first information and screenshots of A-Train Express, the latest entry in its urban development and railroad management simulation series, following its announcement at 2017 PlayStation Press Conference in Japan last week.
Get the details below.
■ About the A-Train Series

An urban development, railroad management simulation game developed by Artdink, A-Train has become a long-selling series that continues to be loved by many fans for over 30 years.

The player becomes the manager of a railroad corporation, lays out the tracks for the railroad to run, and develops the city.

A-Train is a game that offers a high level of freedom. How you play depends on you, and the more you play, the deeper it gets. It's a full-scale, real-time simulation.

Also, A-Train can be enjoyed as a railroad game in which existing cityscapes can be reproduced and existing railroad vehicles cane be operated.

■ About A-Train Express

The ever-evolving A-Train series. And its platform of further evolution is PlayStation for the first time in 16 years.

The latest entry of the PC versions, A-Train 9, which has fascinated users through its overwhelming creative power, is realized through PlayStation 4.

A-Train Express implements various features from A-Train 9, but for the first time in A-Train history, bullet trains from across the country, north to south, have been implemented. Controller-based urban development returns. Also, with PlayStation VR support, you can experience the world of railroad models, including N Gauge and H0 Gauge scaling, anew through the "VR Railroad Model Mode."

With the introduction of a PlayStation 4 version, even users who have yet to play the PC versions will be able to experience the deep world of A-Train 9.

■ Key Features

Beautiful Cityscapes

Shadows created by the sunlight, buildings that reflect in the water, and varied, brightly colored trees. It's not just beautiful, it's all processed in real time, and its development and decay is expressed dynamically.

Huge Maps

Maps are huge and fit almost all of the Yamanote Line. It is possible to reproduce the entirety of central Tokyo on a single map. Build your own city and railroad network on huge, 10km x 10km terrains.

The Freedom to Place Buildings Where You Please

Whether it's on a mountain slope or along the coast of a beach, you have the freedom to choose the locations and directions of your buildings. From just a glance of cluttered groups of buildings, you can tell that this is way more realistic than any other urban development simulation offered thus far.

Railroads Full of Variety

A-Train Express features a huge number and variety of vehicles. Depict the realistic "landscape of a city with a train" with vehicles formed of a maximum of 10 cars. There are vehicles from all across Japan, from nostalgic vehicles to the latest models, so you can enjoy playing in ways such as "reproducing a certain city." And since one map can have a maximum of 200 vehicles, you can enjoy playing with a super overcrowded railway schedule.

A Solution to the Bus and Truck Problem

You can also manage buses and trucks. Eliminate the troublesome problem of "traffic congestion" with detailed diagrams, and take one step further into urban development with support on low-cost roads in regions where implementing a railroad is difficult. Don't just use trains! Playing by "taking the bus" is also fun.

Full Train Customization

Install pantographs based on vehicles from various setups prepared beforehand to reproduce a more realistic railroad landscape. Additionally, a feature to freely select vehicles has also been implemented, allowing you to run the original train setup that you always envisioned.

Driving Mode

A "Driving Mode" will allow you to operate the train on your own. Experience a new world, and run on a schedule thought up by you. Driving Mode also supports private cars and small ships, allowing you to enjoy an even more diverse the view of the city. Enjoy carefree city-strolling to your heart's content.

Create Your Ideal Cityscape

With "Map Construction Mode," you can build your ideal cityscape without restriction. Not only can you specify the ratio of mountains and beaches, there is also a feature to automatically create terrain, as well as an editor to create mountains and valleys on your own, allowing you to easily make your ideal cityscape from the terrain.

True city building starts from creating the terrain!

■ A First in A-Train History! A Countrywide Bullet Train (Shinkansen)!

From Hokkaido's H5 Series Shinkansen that opened in March 2017 to the Touhouku Shinkansen, Hokuriku Shinkansen, Tokaido Shinkansen, Sanyou Shinkansen, Kyushu Shinkansen, and more, shinkansen vehicles that run across the country, from north to south, are featured in the game.

—H2 Series Hokkaido Shinkansen

—E2 Series Shinkansen, E4 Series Shinkansen, and E7 Series Shinkansen

—922 Class Doctor Yellow

—N700 Series Shinkansen (Large A)

■ A Full Set of Railroad Vehicles

In addition to an overwhelming volume of vehicles with over 220 featured in the game, new vehicles are also featured. In response to user requests, many vehicles will appear for the first time in the A-Train series. The realism of your landscape will increase even further.

—E235 Series – Yamanote Line

—1300 Series – Hankyu Corporation Kyoto Main Line

—KiHa 40 Series Nagamare Model – South Hokkaido Railway Company

—AE Series – Keisei Skyliner

—ET122 Series – Echigo Tokimeki Railway

—521 Series – Ainokaze Toyama Railway

■ Decorate the City with a Variety of Buildings

New buildings have been added to project a new style of city and match the railroad vehicles featured in the game.

■ PlayStation VR Support

"VR Railroad Model Mode"

With PlayStation VR support, you can experience a railroad model cityscape that feels like a diorama.

The mode has four types, and you can select a scale for each gauge including the "N Gauge" spopular in Japan, the "HO Gauge," and more:

Z Gauge Mode scaling 1/220
N Gauge Mode scaling 1/150
H0 Gauge Mode scaling 1/80
0 Gauge Mode scaling 1/45

■ DualShock 4-Supported "Flight Mode"

Weave your way between buildings and fly through the sky to view the city from the above. In "Flight Mode," which supports the DualShock 4 controller's motion sensor, it possible for anyone to easily and intuitively photograph and video their prided city.

You can share the videos you record on YouTube and other video sharing websites with the Share button, allowing users around the world to see your city at stylish angles.

■ Guide Movies

A "Guide Movie" feature has been implemented for beginners, which teach you how to play the game. Guide Movies are being prepared for every situation and to support the user as needed. Also, with the implementation of "Maps with Guides" for beginners, new users can learn the basics of how to control and play A-Train.
A-Train Express is due out for PlayStation 4 on December 21 in Japan.
View the screenshots at the gallery.