thatgamecompany announces Sky for iOS, Apple TV
The next game from the creators of Journey.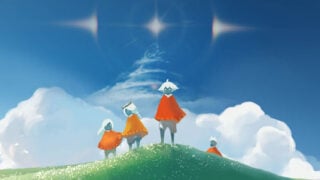 Journey developer thatgamecompany has announced Sky, a social adventure game coming first to iOS devices and Apple TV.
Sky is described as a game where players will "hold hands with your loved ones as you fly together through a desolate sky kingdom, where generosity and compassion is key to lighting your path."
Here's thatgamecompany on the title:
Sky has been a few years in the making. After the release of Journey, so many fans wrote to tell us how much they enjoyed playing the game with their spouse, children or loved ones, and asked if we could create a game where they could play together. We wanted as many people to love games, and so we were encouraged to explore this idea at thatgamecompany. Which brings our games, for the first time, to mobile – a platform that many have access to, the world over.

It's hard to explain the game, but a good place would be to say that Sky is a game specially created to be played, and shared, among loved ones and family. If you can imagine the delight of visiting a theme park where lasting memories are made, we envision Sky will sometimes feel like that.
Watch the announcement trailer and a developer interview below. View the first screenshots at the gallery. Visit the official website here.
Trailer
Developer Interview