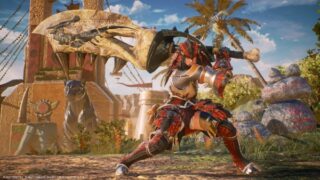 Capcom debuted the trailer for upcoming Marvel vs. Capcom: Infinite playable character Monster Hunter at Tokyo Game Show 2017.
Here's an overview of the character, via Capcom:
A monster hunter from Val Habar, the nomadic desert town that fused with Wakanda. Monster hunters are experts at tracking and taking down monsters using weapons and armor forged from monster parts including scales and claws. Hunters typically go by their given name, but this legendary hunter simply goes by Monster Hunter. She has been appointed as Black Panther's right hand, a new tradition established to create harmony in the newly-formed nation of Valkanda and strengthen bonds in the fight against Ultron Sigma.

Monster Hunter fights with an arsenal of different weapons true to the Monster Hunter series, including a bow, dual blades, and a great sword. Always adapting to the situation, she can power up using the Tartarus Stampede and Demolisher Demon Dance hyper combos, giving her additional properties on her dual blade attacks and vastly improving her mobility. In addition, when used as one of her special moves, her great sword contains infinite hits of armor, easily soaking up any attacks that come her way. For those questing for a versatile character who can shoot enemies from afar while dealing heavy blows up close, Monster Hunter is here to make that quest complete.
Monster Hunter is part of the "2017 Character Pass," which also includes Sigma, Black Panther, Winter Soldier, Black Widow, and Venom.
Marvel vs. Capcom: Infinite is available now for PlayStation 4, Xbox One, and PC.
Watch the trailer below. View a set of screenshots at the gallery.