Hokuto ga Gotoku details Yuria, Shin, Kisana, Jagure, and Kyouou [Update]
Meet the latest batch of confirmed characters.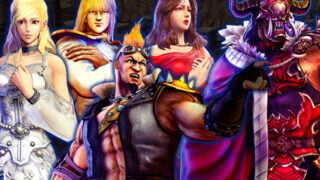 Sega has updated the official website for Hokuto ga Gotoku, its upcoming Fist of the North Star game from the studio behind Yakuza, with descriptions and artwork of existing characters Yuria and Shin, and new characters Kisana, Jagure, and Kyouou.
Get the details below. (We already detailed Kenshiro, but we're throwing him in there regardless.)
Kenshiro (voiced by Takaya Kuroda)

Successor of the Isshi Souden no Ansatsuken and Hokuto Shinken martial arts styles handed down for 1,800 years. He has seven scars that form the shape of the Big Dipper engraved into his chest. Defeated by Nanto Koshuken user Shin, and his fiancee Yuria stolen from him, he again overcomes death and exacts his revenge. However, Shin told him of Yuria's death. Kenshiro was knocked down to the depths of despair, but his only remaining hope exists in rumors that Yuria is alive. After wandering through the wasteland, he reaches Eden, the "City of Miracles."

Yuria (voiced by Aya Hisakawa)

Kenshiro's fiancee. She was traveling with Kenshiro in search of somewhere to live peacefully, but was kidnapped by Shin. Kenshiro exacted his revenge against Shin, and was expected to be reunited with Yuria. However, Shin tells him of Yuria's death. She was said to have died, but…

Shin (voiced by Kazuhiro Nakaya)

Successor of the Nanto Seiken and Nanto Koshuken martial arts styles. The former is said to be the opposite of Hokuto Shinken. He kidnaps Kenshiro's fiancee Yuria. At that time, he gave Kenshiro seven scars on his chest. He dies in a rematch against Kenshiro.

Kisana (voiced by Miyuki Sawashiro)

The daughter of the founder of Eden, the "City of Miracles," and its current ruler. In order to become a fine ruler like her father, she listens to the voices of the people every day, and drafts and implements various policies to improve the city. Kenshiro, who hears that Yuria headed towards Eden, goes to visit the Eden ruled by Kisana, but…

Jagure (voiced by Kenta Miyake)

Commanding officer of the Eden Garrison. Upon seeing Hokuto Shinken user Kenshiro's overwhelming strength, he deemed him to be a monster and immediately imprisoned him in the Eden dungeon. While he does not trust Kenshiro at first, he later opens up to Kenshiro and will eventually become a partner-like character.

Kyouou (Evil King) (voiced by ???)

A man with great influence in this troubled world, who took in bandits one after the next to put together his "Kyouou Army." He is a mysterious kenpo user who is persistent on Eden and attacks it regularly, making him most feared by its people.
Hokuto ga Gotoku is due out for PlayStation 4 in Japan in 2018.
(Editor's Note: Additional tidbits were grabbed from Ali213.)
Update 09/04/17 at 12:20 a.m.: View high-res models of each character and two new screenshots at the gallery.