Hokuto ga Gotoku details Raoh, Rihaku, Taruga, and Lira
Two more game-original characters unveiled.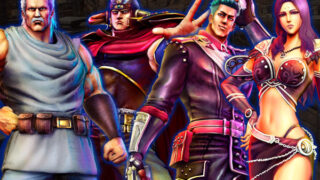 Sega has updated the official website for Hokuto ga Gotoku, its upcoming Fist of the North Star game from the studio behind Yakuza, with descriptions and artwork of newly confirmed characters Raoh and Rihaku, as well as game-original characters Taruga, and Lira.
Get the details below.
Raoh (voiced by Masami Iwasaki)

The Conqueror of Century's End and "King of Fists," he is the oldest of the four Hokuto siblings. He uses the Hokuto Shin Ken martial arts style for his own military rule, and tries to bring unity to the troubled times through violence.

Rihaku (voiced by Kazuhiro Yamaji)

One of the few doctors in town at Eden's medical institution. Knowing much about kenpo and the state of things outside Eden, he is a man of extensive knowledge who doesn't seem to be merely a doctor.

Taruga (voiced by Yuichi Nakamura)

No. 2 of the Kyouou Army, just below Kyouou himself. Contrary to his light voice, he has a cruel and inhuman personality. He uses a pistol, which are of value in this age, and has mastered a taijustu that the average swordsman stands no chance against.

Lira (voiced by Aya Hisakawa)

A voluptuous woman who runs the nightlife of Eden, from night clubs to Colosseum battle betting, and so on. She is strong-minded, intelligent, and has calm judgment. She is also very popular among the women in the city. She also has the full confidence of Eden's ruler, Kisana.
Hokuto ga Gotoku is due out for PlayStation 4 in Japan in 2018.
View the character models in higher resolution at the gallery.