DOOM coming to Switch this holiday, Wolfenstein II: The New Colossus in 2018
More Bethesda Softworks games headed to Switch.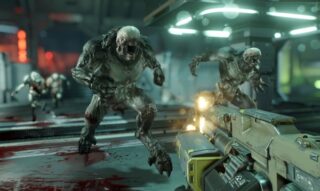 Bethesda Softworks will release DOOM for Switch this holiday and Wolfenstein II: The New Colossus for Switch in 2018, the company announced.
Here's an overview of each game:
DOOM

(via Nintendo.com)

Game Details

Developed by id software, the studio that pioneered the first-person shooter genre and created multiplayer Deathmatch, DOOM returns as a brutally fun and challenging modern-day shooter experience. Relentless demons, impossibly destructive guns, and fast, fluid movement provide the foundation for intense, first-person combat – whether you're obliterating demon hordes through the depths of Hell in the single-player campaign, or competing against your friends in numerous multiplayer modes.

Story

You've come here for a reason. The Union Aerospace Corporation's massive research facility on Mars is overwhelmed by fierce and powerful demons, and only one person stands between their world and ours. As the lone DOOM Marine, you've been activated to do one thing – kill them all.

Key Features

A Relentless Campaign – There is no taking cover or stopping to regenerate health as you beat back Hell's raging demon hordes. Combine your arsenal of futuristic and iconic guns, upgrades, movement and an advanced melee system to knock-down, slash, stomp, crush, and blow apart demons in creative and violent ways.
Return of id Multiplayer – Dominate your opponents in DOOM's signature, fast-paced arena-style combat. In both classic and all-new game modes, annihilate your enemies utilizing your personal blend of skill, powerful weapons, vertical movement, and unique power-ups that allow you to play as a demon.

Wolfenstein II: The New Colossus

(via Nintendo.com)

About

Wolfenstein II: The New Colossus is the highly anticipated sequel to the critically acclaimed first-person shooter, Wolfenstein: The New Order developed by the award-winning studio MachineGames.

An exhilarating adventure brought to life by the industry-leading id Tech 6, Wolfenstein II sends players to Nazi-controlled America on a mission to recruit the boldest resistance leaders left. Fight the Nazis in iconic locations such as small-town Roswell, New Mexico, the bayous and boulevards of New Orleans, and a post-nuclear Manhattan. Equip an arsenal of badass guns, and unleash new abilities to blast your way through legions of advanced Nazi soldiers and über soldiers in this definitive first-person shooter.

Story

America, 1961. Your assassination of Nazi General Deathshead was a short-lived victory. Despite the setback, the Nazis maintain their stranglehold on the world. You are BJ Blazkowicz, aka "Terror-Billy," member of the Resistance, scourge of the Nazi empire, and humanity's last hope for liberty. Only you have the guts, guns, and gumption to return stateside, kill every Nazi in sight, and spark the second American Revolution.

Key Features

The Mission: Liberate America from the Nazis – Strap in for a heart-pounding journey as you fight the Nazi war machine on American soil. As BJ Blazkowicz, protect your family and friends, forge new alliances and face the demons of your troubled past as you rally pockets of resistance to overthrow the Nazi occupation.
The People: Rally the Resistance – Immerse yourself in a world brought to life by unforgettable characters who bring a new level of personality to the franchise. Reunite with your friends and fellow freedom fighters such as Anya, Caroline, Bombate, Set, Max Hass, Fergus or Wyatt, and befriend new characters such as Horton and Grace as you take on the evil Frau Engel and her Nazi army.
The Arsenal: Wield Devastating Guns and Future Tech – Blast Nazis to bits with high-tech weaponry such as the Laserkraftwerk, a multi-purpose, high-intensity laser weapon that can disintegrate enemies, or the Dieselkraftwerk, a rapid-fire, gas-powered grenade launcher that can devastate groups of enemies, or get up close and personal with advanced pistols, submachine guns, and hatchets. When you need a little more versatility, upgrade and dual-wield your favorite guns!
The Plan: Kill Every Nazi in Your Way – Everyone's favorite pastime! Unleash your inner war hero as you annihilate Nazis in new and hyper-violent ways. Lock and load futuristic guns and discover BJ's new set of abilities as you fight to free America. Regardless of your playstyle, invent all-new ways of stabbing, shooting, and killing Nazis.