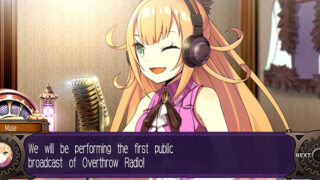 NIS America has released a new trailer for Demon Gaze II introducing the dungeon RPG's character.
Characters introduced in the trailer include:
Muse – The Revolutionist Party's leader and manager of Stella's Place, their headquarters. She is the MC for the Overthrow Radio program, on which she exposes injustices.
Prim – Muse's younger sister. Has an incomparable singing voice. She sings "Starlita" on Overthrow Radio for all listeners to hear.
Prometh – A mysterious girl. She is the Revolutionists' broadcast writer and part-time mortician.
Cassel – A reliable man who supports the revolution. He runs the Weapon and Item Shop inside Stella's Place.
Lezerem – A black-market radio dealer who supports the Revolutionists. He tends to go missing often…
Toma – An energetic butler who works at Stella's Place.
Demon Gaze II is due out for PlayStation 4 and PS Vita on November 14 in North America and November 17 in Europe. Read more about the game here.
Watch the trailer below.