Monster of the Deep: Final Fantasy XV launches November 21
Go fishing in the world of Final Fantasy XV.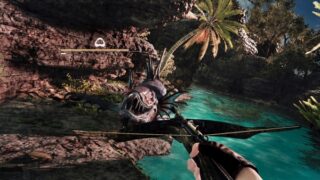 Monster of the Deep: Final Fantasy XV will launch worldwide for PlayStation VR on November 21, Square Enix announced. In Japan, it will cost 3,797 yen.
Here's an overview of the game, via Square Enix:
■ About

In this brand-new VR experience, players will head out on a fishing expedition with Noctis and his crew across picturesque locations in Eos. The Story Mode places players in the middle of an exhilarating and action-packed showdown with a menace that lurks in the depths, while the Free Fishing Mode allows players to take in the the sights, sounds and scenery through a variety of fishing challenges.

■ Game Outline

Final Fantasy XV's Beautiful and Magnificent Waterfronts

Visit the waterfronts of Final Fatnasy XV and enjoy fishing experiences at times overflowing with action. Explore the characteristics of locations ranging from wetlands to seashores, reservoirs, tropics, and more.

Fishing Action

While you can have a geniuine fishing experience through this game, you can also enjoy showdowns with unique creatures that do not exist in reality, such as a boss that leaps up to the shore to attack you.

The World of Final Fantasy XV

Players can create their own avatar and communicate with various characters from the world of Final Fantasy XV. It uses the same avatar system used in the the "Final Fantasy XV Online Expansion Pack: Comrades." This will also be reflected in the photos taken by Prompto and avatar icons.

Even More Ways to Enjoy Fishing

Purchase fishing tools such as rods, reels, lures, and lines, and customize them based on your prey. Additionally, there will be elements where you can enjoy a professional style of fishing, such as various tournaments held regularly where you can compete with players across the country for the biggest prey.

■ Pre-Order Bonuses

Starting August 23, fans who pre-order the game from the PlayStation Store will receive a custom Monster of the Deep: Final Fantasy XV dynamic theme and in-game Samurai Outfit.
View a new set of screenshots at the gallery.