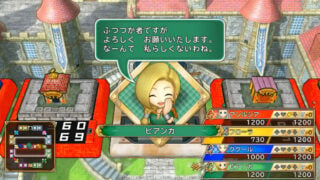 The latest Itadaki Street Dragon Quest and Final Fantasy 30th Anniversary character trailers introduce Nera and Bianca from Dragon Quest V: The Hand of the Heavenly Bride.
If you missed them, previous character trailers introduced Golbez, Gilgamesh, Maribel, Kefka, Cloud, Sephiroth, Terry, Squall, Anlucia, and Nelgel.
Itadaki Street Dragon Quest & Final Fantasy 30th Anniversary will launch for PlayStation 4 and PS Vita on October 19 in Japan.
Watch the trailers below.
Nera
Bianca