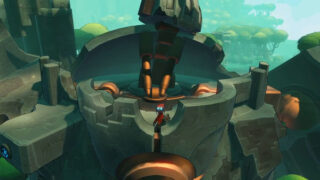 Hob will launch for PlayStation 4 and PC on September 26 for $19.99, developer Runic Games announced.
PlayStation 4 pre-orders will include a 10 percent discount for regular users and 20 percent discount for PlayStation Plus subscribers. Every pre-order will include the "World Shift" dynamic theme.
PC pre-orders will include a 10 percent discount. Runic Games is also launching a "Runic Games Collection" on Steam and GOG today, which includes Hob, Torchlight, and Torchlight II for $24.99.
Finally, Runic Games is calling upon fans to help them name a few of the game's trophies. Find out more here.
Here's an overview of the game, via its official website:
About

Hob is a suspenseful adventure game set on a stunning and brutal world in disarray. Slowly uncover your role in saving the vibrant life around you while you explore stunning landscapes, solve puzzles, and transform the planet itself.

Key Features

Wordless Narrative – Presented without text or dialogue, Hob's story is revealed as you explore the planet and interact with the strange lifeforms that inhabit it.
Transform the World by solving puzzles and repairing the planet. The landscape will change before your eyes, opening new areas to uncover and explore.
Grapple, Punch, and Warp through the world! Use your mechanical glove-arm abilities for traversal as well as combat.
Adventure in an open world, explore ruins, befriend sprites, and battle the rogue creatures that threaten their extinction.
Watch a new trailer and a preview of the dynamic theme below.
Trailer
PlayStation 4 Dynamic Theme