Happy Dungeons for PS4 launches September 7 in Japan, September 12 in the west
Pre-registration campaign begun.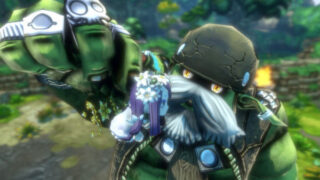 The PlayStation 4 version of free-to-play action RPG Happy Dungeons will launch on September 7 in Japan and September 12 in the west, developer Toylogic announced.
Toylogic is running an early pre-registration campaign from August 10 to 31 in which users can sign-up to receive in-game awards when the game launches. These include:
Early Registration Exclusive Minion, Mimi – Minions are small characters who follow you into Dungeons. Mimi's ability makes all allies invincible for three seconds after opening a treasure chest.
Happy Cards Free Passes x10 – With these, you can try your hand at Happy Cards for a chance to win Rare Equipment Items.
Additionally, several Happy Jewels (which can be used to purchase in-game items) rewards are planned based on the number of early pre-registrations:
5,000 registered – 100 Happy Jewels
10,000 registered – 200 Happy Jewels
15,000 registered – 300 Happy Jewels
20,000 registered – 400 Happy Jewels
25,000 registered – 500 Happy Jewels
Watch a new trailer below.