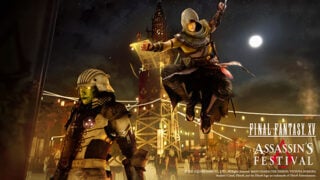 Square Enix and Ubisoft have announced a collaboration between Final Fantasy XV and Assassin's Creed: Origins in the form of the Final Fantasy XV downloadable content "Assassin's Festival," which will launch as a free, limited time event on August 31 and run through January 31.
The event will see the "Assassin's Festival" overtake the town of Lestallum. It features gameplay elementes from the Assassin's Creed series, mini-games, and a chance to obtain exclusive items, such as the "Medjay Assassin's Robes" for Noctis, Gladiolus, and Ignis. The "Master Assassin's Robes" for Noctis can also be obtained via the "Dream Egg," a special item from the Moogle Chocobo Carnival, which is currently ongoing and scheduled to end in late September.
Final Fantasy XV is available now for PlayStation 4 and Xbox One, and will launch for PC in early 2018.
Watch the "Assassin's Festival" reveal trailer below. Visit the official website here.