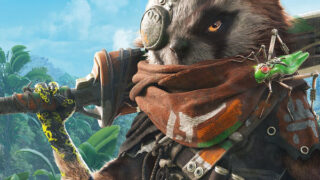 Following a leak this weekend, THQ Nordic and new developer Experiment 101 have officially announced Biomutant, a post-apocalyptic open-world action RPG, for PlayStation 4, Xbox One, and PC. It will launch in 2018.
A collector's edition will be available for $119 and include a copy of the game, official soundtrack, figurine, A1 artwork on fabric, and premium box.
Here's an overview of the game, via THQ Nordic:
About

Biomutant is a post-apocalyptic open-world ARPG that delivers real-time melee, shooter and mutant ability action. Replayability by varied and deep character progression, exploration of three systematically generated worlds, an underworld and a small solar system, by foot, mech, air-balloon, jetski and UFO. Biomutant also features a fully customizable (MMO style) character and mutation system, bionics and creative item crafting, plus an interactive narrative featuring a contextual storyteller where the players creates their own story of survival in a vibrant colorful world.

Key Features

A New Take on Third-Person Combat: The martial arts style combat system allows you maximum freedom of movement and agility while mixing shooting, melee and powers from your mutations.
Evolve Your Gameplay: You'll be able to recode your genetic structure to change the way you look and play.
Next Level Crafting: Mix and match parts to create your own unique single- or double-handed slash, crush and pierce melee weapons.
Gear Up for Adventure: You have full freedom when equipping your character. Not only when it comes to choosing weapons you created, but also what type of gear you wear.
Survive in a Vibrant Open World: You'll create your own adventure as you journey explore the open world and what lies beneath its surface, by foot, mech, jet-ski, air-balloon and more.
An Unusual Story with an Unusual End: A plague is ruining the land and the Tree-of-Life is bleeding death from its roots. The Tribes stand divided, in need of someone strong enough to unite them or bring them all down…
Biomutant will be playable at Gamescom 2017 in Cologne, Germany this week.
Watch the announcement trailer and a gameplay snippet below. View the first screenshots at the gallery. Visit the official website here.
Trailer
Gameplay