Armored Warfare coming to PS4 in early 2018
Free-to-play tank MMO from Saber Interactive.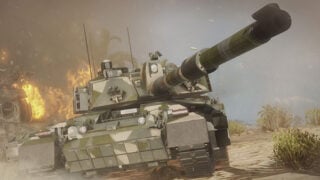 Armored Warfare, the free-to-play massively multiplayer online tank game from Saber Interactive, is coming to PlayStation 4 in early 2018, publisher My.com announced.
Here's a brief overview of the game, via My.com:
Armored Warfare is a free-to-play military MMO that lets players take control of cutting edge war machines and join forces with friends to carry out the most difficult co-op missions, compete with rival teams in PvP mode, or experience the real tank action in the revolutionary Global Operations – an explosive mix of competitive and cooperative play empowered by enlarged interactive maps with respawn zones, overhead surveillance drones, AI support, airstrikes, and much more.
Usres can sign-up today at the official website to receive a special premium Merc edition of the LAV-150 armored vehicle in the game when it launches.
Watch the announcement trailer below.