Rayman Legends: Definitive Edition launches September 12
Switch version of latest Rayman game dated.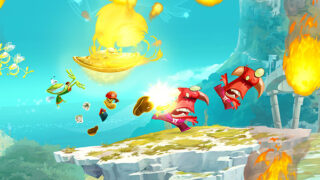 Rayman Legends: Definitive Edition will launch for Switch on September 12, Ubisoft announced.
A demo, which went up prematurely and was removed from the Nintendo eShop in Europe, will be available officially later this summer.
Here's an overview of the game, via its official website:
Rayman, named platformer of the year and winner of multiple artistic and musical achievements, is coming to the Nintendo Switch with Rayman Legends: Definitive Edition. This edition contains the acclaimed game Rayman Legends – 92 metacritic on Wii U – as well as new exclusive content. Michel Ancel, celebrated creator of Rayman, Beyond Good & Evil, and the Raving Rabbids is bringing his innovative creativity to this new and exciting platform. It will make full use of the power of the Switch and its new controllers.

Rayman, Globox, and the Teensies are off wandering through an enchanted forest when they discover a mysterious tent filled with a series of captivating paintings. As they look more closely, they notice each painting seems to tell the story of a mythical world. While focusing on a painting that shows a medieval land, they are suddenly sucked into the painting, entering the world, and the adventure begins. The gang must run, jump and fight their way through each world to save the day and discover the secrets of every legendary painting.
Watch a new trailer below.
Rayman Legends Definitive Edition surfs onto #NintendoSwitch on 9/12! A demo will be available later this summer. https://t.co/lR8VwmK2wk pic.twitter.com/zlYRDiOVYZ

— Nintendo of America (@NintendoAmerica) July 25, 2017
https://www.youtube.com/watch?v=