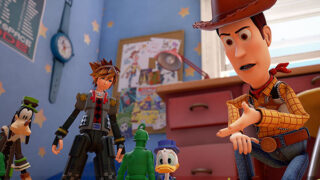 Kingdom Hearts III will launch for PlayStation 4 and Xbox One in 2018, Square Enix announced at D23 Expo 2017.
The company also debuted a new, five-minute gameplay trailer for the game unveiling a new Toy Story world. Here's an overview, via Square Enix:
The new trailer follows Sora, Donald Duck and Goofy to Andy's room as they join Woody, Buzz Lightyear, Hamm, Rex and Sarge's investigation into the disappearance of their fellow toys and Andy, and the emergence of the Heartless enemies in their world. Featuring an original storyline, fans will get a first look at the dynamic trio's Toy Story-themed looks, all-new toys, such as the Gigas, and special Keyblades that transform and give Sora unique attacks to unleash on Heartless enemies.
"At long last, we are excited to open up the Kingdom Hearts universe to include the world of Disney Pixar's Toy Story," said Kingdom Hearts series director Tetsuya Nomura in a press release. "I'm sure fans have been anticipating the inclusion of this world for many years. The narrative will be an original story exclusive to Kingdom Hearts III, and the gameplay will feel characteristic of the Toy Story style and aesthetic. Please stay tuned for more details to be revealed soon."
Pixar Animation Studios story supervisor Jason Katz added, "Featuring a brand new storyline that brings together beloved 'Toy Story' friends with the heroes of Kingdom Hearts, the Toy Story world in Kingdom Hearts III successfully mirrors the level of quality that we strive to achieve with every Pixar film. Kingdom Hearts III will undoubtedly be an experience that fans will not want to miss."
Square Enix also announced that, in celebration of the new trailer, users who log in to Kingdom Hearts: Union χ for iOS and Android from July 16 to August 16 will receive a powerful "Kingdom Hearts III Sora [EX] Medal."
Further Reading:
Watch the trailer below. View a new set of screenshots at the gallery.
Long Version (Five Minutes)
English Subtitles
No Subtitles
Short Version (One Minute Hercules Excerpt)
English Subtitles
No Subtitles