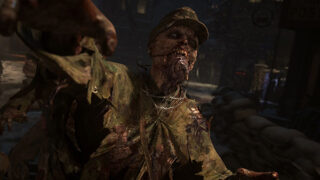 Activision lifted the lid on Call of Duty: WWII's Nazi Zombies mode during a panel at San Diego Comic-Con 2017.
Described as a "terrifying, new zombies cooperative experience," the mode features an all-star cast of characters including David Tennant (Dr. Who, Broadchurch), Elodie Yung (G.I. Joe: Retaliation, Daredevil), Katheryn Winnick (Vikings, The Dark Tower) Udo Kier (Blade, Melancholia) and Ving Rhames (Pulp Fiction, Mission Impossible – Rogue Nation). Nazi Zombies transports players into a labyrinth of "chilling occult Nazi zombies experiments" and "monstrous creations" set in fictional World War II. The story unfolds as an international team uncovers the plot masterminded by the Axis powers to harness occult forces to create an undead army.
Here's a full overview of everything we know about Call of Duty: WWII so far, including the newly revealed Nazi Zombies mode, via Activision:
Story Campaign

Call of Duty: WWII tells the story of heroism on a global scale, through the unbreakable brotherhood of common men fighting to preserve freedom in a world on the brink of tyranny. Players enlist in a gritty, intense campaign through the harrowing battlegrounds of war, facing overwhelming odds and hostile terrain across Europe, in a gripping experience that honors the history of World War II.

Blockbuster WWII Action – Call of Duty: WWII features the epic scale, cinematic moments and intensity that only Call of Duty delivers, all set against the backdrop of the largest global conflict in history. The game redefines World War II for a new generation, delivering an experience that was not possible on previous systems.
Cameraderie – Featuring a global cast of characters across Europe, players will follow the gripping story of Ronald "Red" Daniels, a member of the US 1st Infantry Division, as they trek through the harrowing European theater of war. Joining Allied forces from the U.K. and the French Resistance, across the beaches of Normandy, to the liberation of Paris and ultimately into Germany, the squad must fight alongside a global and diverse cast of characters to achieve victory. The story campaign delivers the gritty authenticity and cinematic intensity of WWII combat, honoring the unforgettable heroism of those who fought in World War II.
An Immersive Gameplay Experience – Call of Duty: WWII brings to life some of the most iconic moments of World War II, including the D-Day Invasion of Normandy, liberation of Paris and the Battle of the Bulge, with incredible visuals and awe-inspiring sound that puts players in the middle of the action.

Call of Duty: WWII Multiplayer marks an exciting return to the franchise's World War II roots and combat that defined the franchise. Prepare for fast-paced, grounded action with an arsenal of iconic weapons and equipment in the fight to liberate a continent in the throes of tyranny. Call of Duty: WWII immerses players in the brutal gameplay of history's largest conflict.
Call of Duty: WWII Multiplayer offers players true franchise innovations across the entire experience with brand new ways to connect, compete and engage as a community. Divisions redefines how players develop their WWII Multiplayer Careers by enlisting in five iconic WWII-era divisions. War Mode lets players compete against each other in team-driven, objective gameplay. And Headquarters is a transformational new experience that will connect players like never before.

Divisions – Divisions fundamentally redefines how players invest in their Multiplayer career. This is a reimagining of the create-a-class system, and players will choose from five iconic World War II divisions each with specific division training and division weapon skills. This streamlined approach to Multiplayer gives players the ability to reinforce their individual play styles while dominating the enemy in some of the most iconic locations of the world's largest conflict.

Airborne Division: The first to the fight, the Airborne Division moves fast and stays quiet, armed with undetectable silenced SMGs
Mountain Division: Death from a distance, the Mountain Division, with their sharpshooter focus and sniper rifles, is precise and deadly
Infantry Division: Extremely versatile, the Infantry Division is equipped for mid to long range rifle engagements and up-close-and-personal bayonet charges
Armored Division: Bringing the heaviest firepower, the Armored Division is armed to the teeth with explosives and LMG firepower
Expeditionary Division: Packing heat, the Expeditionary Division is well-equipped with incendiary rounds and shotguns

War Mode – War Mode is an all-new game mode where players must work as a team to defeat the enemy. This narrative-driven Multiplayer experience, developed in partnership with Raven Software, immerses players in iconic World War II locations. Allied and Axis forces clash in team-driven assault and defend missions for key strategic objectives.
Headquarters – Headquarters is an all new off-the-frontlines experience for Call of Duty players. Players will compete, earn rewards, show off their accomplishments, and connect with fans and friends. Unlike anything experienced in Call of Duty to date, Headquarters transforms the Multiplayer experience by redefining how players engage with the game and with each other.
Boots on the Ground Gameplay – Multiplayer marks a return to iconic boots on the ground Call of Duty gameplay that fans know and love. This return to classic combat makes for more strategic, grounded and meaningful Multiplayer engagements
Multiplayer Maps (Confirmed to Date)

Point Du Hoc – Fight through a fortified network of German bunker complexes atop the cliffs at Pointe du Hoc, an important strategic target overlooking the beaches of Normandy. Engage in fast-paced, close-quarters combat in the trenches, or flank the enemy in a brutal fight to lock down the nearby farmhouse and bunkers for control of key access routes to the bluff.
Ardennes Forest – Battle through the frigid snow-covered forest of the Ardennes during the Battle of the Bulge, the brutal final major offensive effort by the German army to punch through the Allied front lines. Engagements are fast and deadly in the dangerous, snow-covered woodland ruins. Stay alert in this medium size, frenetic map protected by emplaced MG42 machine guns waiting to annihilate enemy combatants.
Operation Breakout (War Mode) – Fight for control of a war-torn French village west of St. Lo, an important operation in the Allied push onward and out of the beachhead at Normandy. Allied and Axis forces clash for control of a strategic manor to secure a forward operating position. Bridge construction, ammo depot demolition and tank escorts are key strategic tasks in this do or die mission to dominate the enemy. Choose your equipment wisely – every decision can mean the difference between victory and defeat in this narrative-driven, objective-based multiplayer experience – a first for Call of Duty.

Nazi Zombies

Call of Duty: WWII Nazi Zombies is an original, terrifying co-operative mode that unleashes a frightening new horror story for Call of Duty zombies fans. Nothing is as it seems in this zombies horror, as a dark and sinister plot unfolds to unleash an invincible army of the dead.

The Mission – Players will embark on a chilling, dark and mysterious journey through Mittelburg, a snowy Bavarian village in Germany, as they attempt to recover priceless works of art stolen by the Axis powers in World War II. This village holds a secret key to an unimaginable and monstrous power, so visitors must be on their toes and beware of the twisted and occult horrors that guard these treasures.
Diverse and Global Cast of Characters – Players join a group of international art experts from the Monuments, Fine Arts, and Archives Section (MFAA) on their dangerous pursuit to reclaim some of the world's most important works of art from the hands of the Axis powers, all while trying to survive a horror like no other.

Jefferson Potts – Strong, assured, and educated, Jefferson has both the military and academic prowess the MFAA need.
Olivia Durant – A former art historian of the Musée du Louvre, and weapons expert, she is an extremely savvy and capable member of the team.
Drostan Hynd – A former art thief, this brash and rough character was given a choice: go to jail, or help reclaim stolen art.
Marie Fischer – A brilliant engineer and tactician, Marie attempts to help salvage stolen treasures and rescue her brother, Klaus.
Call of Duty: WWII is due out for PlayStation 4, Xbox One, and PC on November 3.
Watch the Nazi Zombies reveal trailer below. View a set of screenshots at the gallery.