White Day: A Labyrinth Named School for PS4 launches August 1 in North America, August 4 in Europe
Korean horror game dated in the west.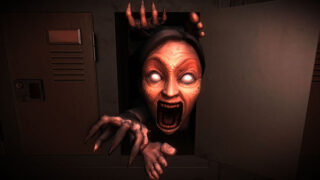 White Day: A Labyrinth Named School will launch for PlayStation 4 in North America on August 1 and Europe on August 4, publisher PQube announced.
Here's an overview of the game, via its official website:
Story

Starting a new school is never easy, especially when it's one plagued by rumours of violent murders and vengeful spirits. Unfortunately for Hui-min Lee, it takes less than two days before Yeondoo High School's newest student finds himself trapped inside the building overnight – and thrown face-to-face with the malevolent spirits roaming the corridors.

It started off innocently enough: Hui-min had intended to quickly sneak in and out to hide some chocolates in the locker of a classmate. But as soon as he stepped foot inside the shutters slammed closed for the night, locking him inside with possessed janitors hellbent on killing intruders, and vengeful ghosts eager to sap his lifeforce away.
Can Hui-min sneak though the school and discover a way out? Or is he fated to become yet another ghost haunting the classrooms of Yeondoo High School?

Features

The cult-classic returns!

The long-awaited remake of the Korean-only horror masterpiece is back to terrify an all-new generation of gamers. Redesigned from top-to-bottom for PS4 and PC, and boasting major story upgrades and mechanical overhauls, White Day: A Labyrinth Named School is the essential reimagination of one of the scariest and most influential titles ever made.

Survival Horror Bites Back – Resource-based health and save systems hark back to the Golden Era of horror.
Intense Stealth Gameplay – Cover your tracks and stay hidden to avoid the killer janitors roaming the halls.
Dynamic Scare System – Feeling brave? Higher difficulty settings increase the ghost and fright frequencies.
Diabolical Secrets – Solve tricky puzzles and riddles to unlock ghost stories and collectibles.
Evolving Puzzle Solutions – Forget using guides to cut corners – keypad and padlock codes differ every time!
Race Against the Clock – Act fast to vanquish the school's deadliest spirits… or suffer a painful end.
Branching Story – Shape your relationships with fellow classmates using different dialogue options.
Nine Different Endings – Who will live through the night? Your actions will determine your classmates' fate!
Multiple Location Options – Play from start to finish in English, French, German, Italian, Spanish or Russian.
Plus! – Updated to include bespoke PS4 trophy and Steam Achievements.
PQube did not announce a release date for the Steam version of White Day: A Labyrinth Named School, but we have contacted the publisher for comment. (Update 06/06/17: PQube has told Gematsu it does not have any news on the PC release at the moment, but that "it's unlikely to be anywhere close to the PS4 release.")
If you missed it last month, watch the trailer below. View a new set of screenshots at the gallery.