Superhot and Superhot VR coming to PS4 and PlayStation VR this summer
Superhot Team confirms PlayStation release.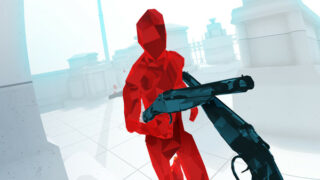 Superhot and Superhot VR are coming to PlayStation 4 and PlayStation VR, respectively, this summer, Superhot Team announced during the Sony E3 2017 press conference pre-show.
The games will be available across all continents, and available both separately or as a single package.
Here's an overview of the virtual reality version, via PlayStation.com:
Overview

Lose track of what's real. Commit yourself, body and mind. Confront the evocative, elegantly brutal world of Superhot VR.

Blurring the lines between cautious strategy and unbridled mayhem, Superhot VR is the definitive VR FPS in which time moves only when you move. No regenerating health bars. No conveniently placed ammo drops. It's just you, outnumbered and outgunned, grabbing the weapons of fallen enemies to shoot, slice, and maneuver through a hurricane of slow-motion bullets.

Bodies are disposable
Mind is software
Bodies are disposable
Mind is software

Decisive winner of dozens of VR Game of the Year awards, Superhot VR is a title reimagined and redesigned from the ground up for VR and hand tracking controllers. The fruit of over three years of close cooperation between the critically acclaimed Superhot Team, Superhot VR brings the intensely visceral action of Superhot directly into your head and soul. And now also – directly into your PlayStation VR.

Awards

DICE Awards Immersive Reality Game of The Year 2017 Winner
New York Game Awards Best Virtual Reality Game 2017 Winner
Unity Vision Summit Virtual Reality Game 2017 Winner
Pixel.Awards Best Virtual Reality Game 2017 Winner
Digital Dragons Best Virtual Reality Game 2017 Winner
GDCA Best VR Game 2017 Nominee
SXSW Trending Game of the Year 2017 Nominee

Superhot Forever Update

Superhot VR now also includes the massive Superhot Forever update, bringing hours of new replayable challenges, achievements and hardcore endless levels to Superhot VR's time-bending gameplay, including:

Test your aim where only headshots take out enemies.
Race against your best scores in bullet-time and real-time.
Try to complete the game without shooting.
Get hardcore with faster enemies and less reaction time.

The game will test your limits. It will make you hurt. The good kind of pain. But at the end you will prevail. You will be one with the system.