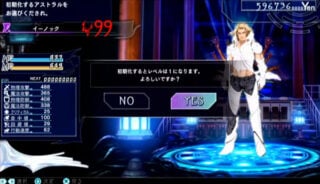 Kadokawa Games and Crim debuted seven minutes of gameplay footage from its upcoming dungeon RPG The Lost Child during a Dengeki Online live stream.
Here are some new details:
Astral Strengthening

Players can strengthen the Astrals they capture and enslave during battle. There are three types of Astrals: Angels, Demons, and Fallen Angels.

During battle, there is a fixed chance that an Astral you're using will suddenly learn a new skill.

Astrals will level up by injecting them with karma, which is acquired in battle. There are three types of karma—blue (Angels), red (Demons), and purple (Fallen Angels). You should apply the karma that matches the type of the Astral that you're strengthening to level up most effectively.

When an Astral reaches its maximum level, it can transform ("SINka" instead of the "Shinka," the Japanese word for "transformation") to its next stage.

Skill Exchange

You can exchange the skills you learn suddenly during battle for skills possessed by other Astrals. However, you can only exchange skills if their values counterbalance each other.

Initialization

The Astral returns to Level 1. In these situations, as its stats are a big leap from its initial stats, you can strengthen the Astral even further. By using Initialization and skill exchanges, you can even train weak Astrals to become very strong.

Countless Dungeons Await in the Post-Game

After you clear the game, you will have access to the post-game "Blasphemous End R'lyeh 47°09'00.0″S, 127°43'00.0″W." The further you venture into these infinite dungeons, the stronger the enemies will become. You should use the strengthening system skillfully to train your party and clear the dungeon. In test play sessions, the dungeon took more than 300 hours to complete.
The Lost Child is due out for PlayStation 4 and PS Vita in Japan on August 24.
Watch the footage below.
Thanks, Games Talk.