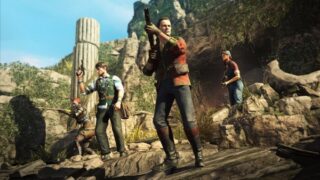 Rebellion, the studio behind Sniper Elite 4 and Zombie Army Trilogy, has announced Strange Brigade, a 1930s-set third-person adventure "full of peril, mystery, and derring-do" coming to PlayStation 4, Xbox One, and PC.
Here's an overview of the game, via its Steam page:
About

There are remote corners of the British Empire where the shadows linger at their deepest. The servants of The Crown know about these places and the supernatural beings that sometimes lurk there.

Introducing the fearless and unflinching Strange Brigade!

Embark on an exotic safari into DANGER where few dare go and fewer return! Encounter FANTASTIC and forgotten civilizations shrouded in MYSTERY! Uncover TREACHEROUS tombs and unfathomable EVIL, never-before-seen by any human now living!

This pulse-pounding adventure will rivet you to your game controller!

Don't fail to play: Strange Brigade!

Features

Four Fearless Adventurers! – Explore the ancient world as one of four dashing explorers, each with their own special powers, weapons and tactics.
A Thrilling 1930s Campaign! – Experience a rip-roaring new adventure for 1-4 players filled with pulse-pounding action, treacherous traps and tales of derring-do!
Legions of Beasties! – Fight-back-to-back against an army of mythological menaces unleashed by an ancient Egyptian ruler so nefarious she was wiped from the hieroglyphs: Seteki the Witch Queen!
Hidden Treasures! – Stay on the lookout for secret caves and buried riches. Get off the beaten track and keep those peepers peeled … what with all those dastardly traps about!
A release date was not announced. Rebellion will debut "gameplay and more" at E3 2017 from June 13 to 15.
Watch the announcement trailer below. View the first screenshots at the gallery.