Rayark action RPG Implosion coming to Switch
Strengthen your battle suits in July.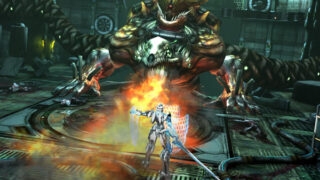 Implosion, the smartphone action RPG from DEEMO and Cytus developers Rayark, is coming to Switch via the Nintendo eShop in Japan in July for 1,111 yen, the latest issue of Weekly Famitsu reveals.
The game puts players in control of the "WM-III" battle suit, through which you'll battle using skills and stylish actions. Difficult inputs are entirely unnecessary. The controls are simple—the Y button is used for consecutive attacks, and the X button is used for heavy attacks. Actions will change depending on the timing of the attack. By equipping "Arks," whic you obtain during the game, you can strengthen the WM-III and create a battle suit all your own.
Characters that will appear in the game include:
Jake (voiced by Kaito Ishikawa)
Diana (voiced by Asami Seto)
Zoe (voiced by Yurika Endo)
Napoleon (voiced by Hiroki Yasumoto)
Jonathan (voiced by Kenjiro Tsuda)
Development is 99 percent complete.
Thanks, Hachima Kikou.