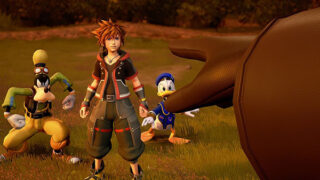 Square Enix debuted a new trailer for Kingdom Hearts III during its Kingdom Hearts Orchestra World Tour in Los Angeles tonight.
The two-minute trailer shows Sora, Donald Duck, and Goofy help Hercules battle various forms of Heartless on Mount Olympus. Sora is shown in a new form, which allows him to perform special powerful solo and joint attacks on his enemies. The story segments reveal a reunion between Disney villains Hades, Maleficent, and Pete as they discuss the location of a mysterious item, while Sora is faced with a dilemma in an effort to bring back an old friend.
A new world and new trailer will be shown at D23 Expo 2017 on July 15.
Kingdom Hearts III is in development for PlayStation 4 and Xbox One.
Watch the trailer below.
Japanese (with English subtitles)
Japanese (no subtitles)