Inazuma Eleven Ares footage shows in-game character models
A look at Asuto Inamori, Ryouhei Haizaki, and more.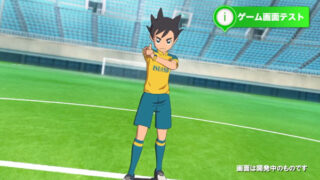 Level-5 debuted first footage of its Inazuma Eleven Ares game showcasing in-game characters models during the sixth "Inazuma Walker" live stream.
According to Level-5 president and CEO Akihiro Hino, "You'll obviously know this is not 3DS." He added, "From techniques to characters, everything is being recreated. This is a full reset. It's a completely new title."
The footage showcases the character models of Team Inakuni Raimon's Asuto Inamori, Seishou Gakuen's Ryouhei Haizaki, Outei Tsukinomiya's Yuuma Nosaka, Inakuni Raimon's Kirina Hiura, and Outei Tsukinomiya's Seiya Nishikage.
Hino also brought artworks showing the characters of Inazuma Eleven Ares in middle age RPG-esque outfits, but did not further elaborate.
In addition to 3DS, Inazuma Eleven Ares will release on a "higher quality game machine." What that game machine is has yet to be announced.