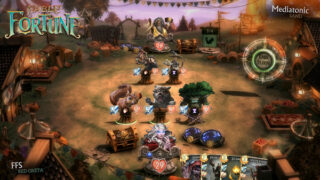 Fable Fortune, the collectible card game developed by Flaming Fowl Studios and Mediatonic set in the Fable world of Albion, will launch for Xbox One and PC (Steam page) on July 11, the studios announced.
The game will be available in a "Founder's Pack" for $14.99 / £9.99 / €12,99, which contains "over $40 worth of in-game items," including 20 packs of cards to open, the exclusive "Flaming Fowl" Trophy Card, and the very rare "Giant Egg" card. Fable Fortune will be free-to-play later in 2017.
Here's an overview of the game, via Flaming Fowl and Mediatonic:
Fable Fortune combines pioneering CCG systems with some of the franchise's most cherished moments; featuring timeless heroes, despicable villains, armies of bemused (and conveniently expendable) peasants, and some good old fashioned, family-friendly necromancy.

Choose from one of six heroes each sporting diverse powers and cards, and set forth to crush your opponents under a hobbe-nailed boot in either classic PVP mode, or the unique and fully integrated Co-op mode. Discover how the iconic Alignment mechanic can be used to shift heroes towards a good or evil path during play; transforming their powers, altering their card effects, and turning the tide of battle in one chicken-kicking* hand.
Watch an old gameplay trailer below.