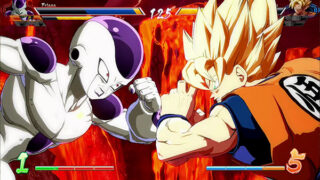 Bandai Namco has released the first direct-feed gameplay videos of Dragon Ball FighterZ, its newly announced fighting game developed by Arc System Works.
The 2D Dragon Ball fighting game features three-versus-three tag battles, high-end anime-esque graphics, and flashy elements like aerial combos, destructible stages, and famous scenes from the Dragon Ball series, all running at 60 frames per second in 1080p (with higher resolution on PlayStation 4 Pro and Xbox One X). Confirmed characters include Goku, Vegeta, Gohan, Cell, Frieza, and Majin Buu.
Dragon Ball FighterZ is due out for PlayStation 4, Xbox One, and PC in 2018. A closed beta is scheduled for consoles this summer.
Watch the footage below.