Coven and Labyrinth of Refrain coming to PS4 on September 28 in Japan
2016-released PS Vita dungeon RPG getting a PlayStation 4 port.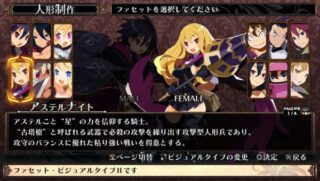 Coven and Labyrinth of Refrain, Nippon Ichi Software's dungeon RPG for PS Vita launched in Japan in June 2016, is coming to PlayStation 4 in Japan on September 28, the latest issue of Dengeki PlayStation reveals. It will cost 6,980 yen for the standard edition and 8,980 yen for the limited edition.
The PlayStation 4 version is a complete port, but the amount of "Facet Visuals" have been increased due to high demand. The amount of visuals you can choose from at the start of the game has increased to three types.
Here are some example facets (classes):
Theatrical Star – A dancer. Low attack power, but her dances and spell bells can protect allies during status ailment attacks.
Aster Knight – Uses a two-handed weapon called the Ancient Tower Spear. Its offensive and defensive balance is unmatched, and it excels in drawn-out battles.
Mad Raptor – A hunter that uses bows to fire magic bullets. It can deal great damage from the back.
The limited edition for the PlayStation 4 version is a reprint of the rare PS Vita version. It includes a special-make box, original tarot card, and the game's soundtrack.
Thanks, Hachima Kikou.