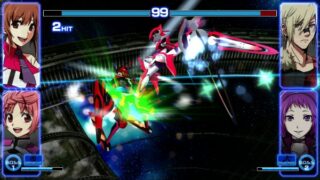 Senko no Ronde 2 will launch for PlayStation 4 and PC via Steam on September 7, Degica Games, Chara-Ani, and G.rev announced.
In Japan, the PlayStation 4 version of Senko no Ronde 2 will cost 4,800 yen via download. Standard and limited physical editions distributed by Kadokawa Games will be available for 5,800 yen and 9,800 yen, respectively. The limited edition includes an original soundtrack CD, "Senko no Ronde 2 Materials Guide" creation materials book, and a creation materials DVD.
In the west, the PlayStation 4 version will be released digitally, as well as in standard and limited physical editions, according to the English official website's product page. None of the three editions have been priced or detailed.
The Steam version of Senko no Ronde 2 has yet to be priced in any region.
Here's an overview of the game, via its Steam page:
Originally released in Japanese arcades in 2005, the Senko no Ronde series provides an unique mix of both the shooting and fighting genres, mixing them into a one-on-one action game where two Rounder (mecha) pilots face off against one another in a veritable ballet of bullets and battling.

Senko no Ronde 2 is a reboot of the 2010 game Senko no Ronde DUO, a faster, further refined follow up to WarTech, the only English language release in the series.

Players take control of a Rounder and utilize long ranged attacks alongside melee assaults to defeat their opponent. Shields and the all-important dash can be used in defense, with barrage attacks and the all mighty B.O.S.S. attack on hand to rain destruction on the battle field.

Featuring an involved storyline, more characters and rounders, with local battles, online matching and more!

And with Zuntata alumni, Yasuhisa 'Yack.' Watanabe on board, you know the soundtrack is going to be a treat too.
Senko no Ronde 2 will be playable at A 5th of BitSummit in Kyoto this weekend from May 20 to 21.
A special "Reassembly from 'DUO'" event will be held at the Shibuya event space Tokyo Culture Culture on June 9. It will feature discussion from the developers, a demo featuring all of the playable characters revealed by that point, a small tournament for attendees, and the announcement of new information only for those who attend the event.
Watch the opening movie and a set of character introduction trailers below. View the first set of screenshots and artwork at the gallery. Visit the official English website here.
Opening Movie
Character Introduction Trailers
Lev LeFanu
Beak Chang Po
Fabian the Fastman
Mika Mikli