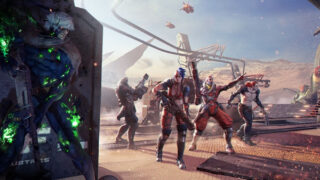 A closed beta for MercurySteam's Raiders of the Broken Planet will take place across PlayStation 4, Xbox One, and PC on May 13 and 14, the company announced.
The closed beta will allow users to try out the game's "dynamic 4 divided by 1 shooting and brawling combat." Users can sign up to participate here.
MercurySteam also shared first details on the game's four self-contained campaigns:
Raiders of the Broken Planet will soon launch with the Alien Myths campaign and be followed up with three additional self-contained adventure campaigns throughout 2017. Wardog Fury, Hades Betrayal and Council Apocalypse all form part of the 2017 season of campaigns for the game. Each campaign tells a parallel story and can be enjoyed in any order and will be packed to the rafters with new missions, new characters and tons of new content, each developing and growing the sci fi universe of Raiders. More details will be released soon.
Finally, a new trailer dubbed "4 Divided by 1" was also released. It provides a glimpse of the asymmetric online co-op gameplay of the Raiders of the Broken Planet. Players can either join a team as a Raider, or fight against them alongside AI.
Raiders of the Broken Planet is due out for PlayStation 4, Xbox One, and PC in 2017.
Watch the new trailer below.