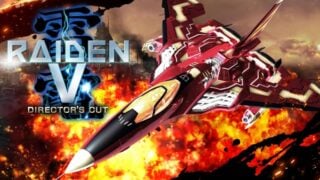 UFO Interactive and Moss have announced Raiden V: Director's Cut for PlayStation 4 and PC (Steam). It will launch this fall in North America, Europe, Japan, and Asia.
Raiden V: Director's Cut is a port of the 2016-released Xbox One shoot 'em up Raiden V with new elements, including a local two-player co-op mode and new mission stages.
Here's an overview of the game's features, via UFO Interactive:
Extreme Graphics – Raiden V: Director's Cut features full 1080P support to bring every explosion, missile attacks and boss kills to earth shattering realism on HDTV's and monitors.
Tri View HUD – Raiden V: Director's Cut reaches new levels of frenetic and heart pounding action as real time game status changes, command center data and game play simultaneously and continuously update you on the action.
Multiplayer – First time ever, local two-player cooperative play!
Cheer Attack – A Powerful special attack for your secondary weapons – but only for a few seconds – don't miss your window!
Fully Narrated Storyline – who's got time to read!
New Ships – 3 Unique Ships with different strengths and weapons.
Health Bars – Keep an eye on your ship's health if you want to make it to your final destination.
PS4 Limited Edition – Exclusive 22* track separate music soundtrack CD.
Watch the announcement trailer below. View a set of screenshots at the gallery.