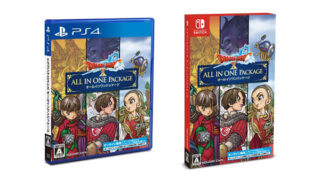 Dragon Quest X will launch for PlayStation 4 on August 17 and Switch on September 21 in Japan, Square Enix announced.
Each version of the game will be priced at 4,800 yen and ship as the "All In One Package" edition, which includes the Versions 1, Version 2, and Version 3 updates of the massively multiplayer online RPG.
As for the monthly fee, on PlayStation 4 it will cost 1,500 yen a month for five characters, and on Switch, between 1,000 and 1,500 yen a month for three to five characters
A beta test for the PlayStation 4 and Switch versions will be held from July 19 to August 10. Interested users can apply here.
Square Enix also showcased first the footage of Dragon Quest X running on Switch, as well as new footage running on PlayStation 4. Watch that below. (Switch version from 29:11 to 31:14, PlayStation 4 version from 31:14 to 33:30.)