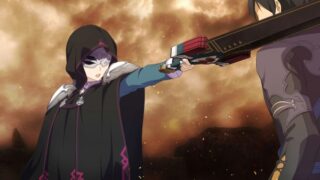 The first of the three-chapter "Abyss of the Shrine Maiden" downloadable expansion story for Sword Art Online: Hollow Realization—"Chapter I: Explorer of Illusory Mists"—will launch for PlayStation 4 and PS Vita on April 26 in Japan, and May 16 in the Americas and Europe, Bandai Namco announced.
Here's an overview of the first chapter, via Bandai Namco:
The first downloadable content will put you in the shoes of Kirito and his friends' once more. A new stage in Aincrad Castle – where flaming earth, magma and heat waves dominate the atmosphere – will be the main scenario. Defeating Bane – The crimson Demon – is the target, but while the group is trying to clear this incredible new stage, Premiere suddenly complained of headache. What is going to happen? At the same time, a mysterious masked person makes his appearance. Will it be an ally or a new enemy…

With the main scenario comes as well Heroine Quest – where you will have the chance to add Asuna, Lisbeth, Silica and Premiere as heroine in the first Chapter; Enigma Order Quest – where you can acquire the precious Fuse Paragon, Mystic and Ultana GP Order items & skill for becoming powerful as never before; and Customization to change the appearance of the main characters.
Bandai Namco also teased that the second chapter will see the scenario reversed, with Ice dominating the scene, and that the third chapter will unlock new characters Alice and Eugeo, as well as a co-sleeping event that will involve both.
Watch a trailer below. View a set of screenshots at the gallery.