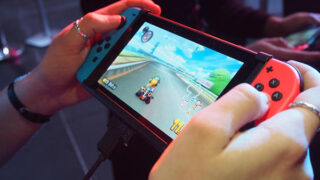 Nintendo shipped 2.74 million Switch units in the fiscal year ended March 31, 2017, the company's latest financial results reveal.
The company is targeting 10 million Switch units shipped during in the new fiscal year, which started April 2017 and ends March 2018.
The Legend of Zelda: Breath of the Wild recorded total sales of 3.84 million units, with 2.76 million units sold on Switch and 1.08 million units sold on Wii U.
Find other notable sales figures below.
3DS Hardware – 7.27 million units sold during the fiscal year ended March 31, 2017, 66 million total units sold
3DS Software – 55.08 million total units sold during the fiscal year ended March 31, 2017
Kirby: Planet Robobot (3DS) – 1.36 million total units sold
Pokemon Sun / Pokemon Moon (3DS) – 15.44 million total units sold
Super Mario Maker for Nintendo 3DS (3DS) – 2.34 million total units sold
Wii U Software – 14.8 million units sold during the fiscal year ended March 31, 2017