Splatoon 2 launches July 21
New "Salmon Run" mode detailed.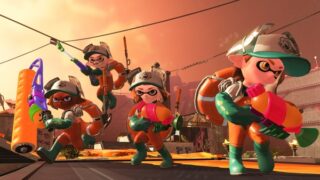 Splatoon 2 will launch for Switch in North America, Europe, and Japan on July 21, Nintendo announced.
The multiplayer third-person shooter will launch alongside three new Amiibo figures—the Inkling Girl, Inkling Boy and Inkling Squid—which will grant special limited gear in game. By tapping these Amiibo (as well as previously released Splatoon series Amiibo) to the Switch, the figure's character will appear in the game and befriend players. Befriend an Amiibo character and it will remember favorite weapons, gear, outfits and option settings.
Nintendo also shared details on "Salmon Run," a new four-player co-op mode:
Salmon Run, a new four-player co-op mode, is coming to the Splatoon 2 game. By teaming up with friends, players can take a part-time job battling the new Salmonid species, which the Squid Research Lab reports might even be more lethal than the Octarians! When players fall in co-op mode, teammates can revive them by inking them on the battlefield.
Watch a new overview video below. View a new set of screenshots at the gallery.