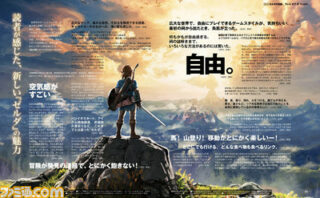 The latest issue of Weekly Famitsu has a 10-page feature on The Legend of Zelda: Breath of the Wild featuring interviews with the developers.
During the interview, producer Eiji Aonuma confirms that the "open air" concept of The Legend of Zelda: Breath of the Wild will become the standard for new The Legend of Zelda titles going forward.
Get the tidbits below.
Zelda has a pretty deep portrayal this time, but Ganon on the other hand is a conceptual existence known as "Calamity." Why is that?

Director Hidemaro Fujibayashi: "Role-wise, we didn't need to attach a attach a character to him. If he started talking, he would need a backbone, and that would surely become obstructive as far as the game goes. Because of that, this is what became of him."

Why did you depict Zelda as a lesser performing student-type character?

Fujibayashi: "The story was easier to make and the staff in charge of the scenario strongly supported that kind of plot. (Laughs.) Of course, there are also functional implications."

Where is the story of Breath of the Wild positioned in the history of Hyrule?

Fujibayashi: "Shouldn't that… be left to your imagination?"

Producer Eiji Aonuma: "The history of Hyrule changes over time. As a matter of fact, there have been several times so far that once determined history has changed. Even the details in history textbooks are gradually changing. So this time, the situation is as if I found new ancient documents. (Laughs.)"

The next game might be an even greater challenge, but will it evolve the open air concept of The Legend of Zelda: Breath of the Wild or will you make a dungeon clearing-type game?

Aonuma: "In the future, this will probably become the standard form."
The Legend of Zelda: Breath of the Wild is available now for Switch and Wii U.
Thanks, Hachima Kikou and Famitsu.