Code Vein has character customization, large variety of fields
New tidbits from the latest Dengeki PlayStation.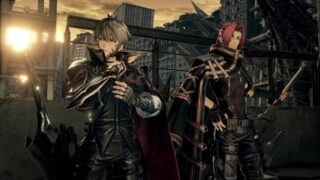 The latest issue of Dengeki PlayStation has new details on Code Vein, Bandai Namco's new action RPG from its God Eater team.
If you missed it last week, catch up on all the information and screenshots released so far here.
Here are the new details, via a developer interview in the magazine:
The game is set in a world where time has passed after it was destroyed by a certain cause. Now, modern society is made up of adjoining lands.
Your purpose as a Revenant is to survive. As you fight, you will get closer to the truth of the world.
(Presumably referring to the screenshots that have been released…) The protagonist is the short-haired man, and the red-haired man and the woman wearing the Russian hat are NPCs.
The player character can be freely customized. Gender can also be set. A wide range of customization is possible, allowing you to make a heroic and cool-looking character.
The game will feature growth elements with a very high degree of freedom, allowing you to develop your character in a way that matches your play style.
Rather than progress by clearing stages, you'll explore the world of adjoining lands on your own feet.
There are a large variety of fields. Each area has enemies with different characteristics, as well as area-specific mechanics. The volume should be satisfying.
Even if your Buddy character dies, you can continue exploring. You can also explore on your own without bringing along a Buddy.
The concept of "death" does not exist. Even if you're out of action, if time passes, you can become active again (retry again from a checkpoint).
They're re not trying to put difficulty at the forefront, but there will be challenges.
Code Vein is due out worldwide for unannounced platform(s) in 2018.
Thanks, Games Talk.