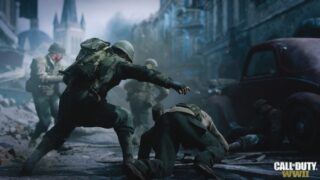 Activision and Sledgehammer Games have officially unveiled Call of Duty: WWII, due out for PlayStation 4, Xbox One, and PC on November 3, with the first details, trailer, and screenshots.
Get the information below.
Call of Duty returns to its roots with Call of Duty: WWII—an experience that redefines World War II for a new gaming generation.

In Call of Duty: WWII, players will battle across Europe through strategic locations in history's most monumental war. Experience iconic Call of Duty combat, the bonds of camaraderie, and the brutality of war against a global power throwing the world into tyranny. Players will engage in combat across three robust game modes: Campaign, Multiplayer, and Co-Operative.

Campaign mode transports players to the European theater as they engage in an all-new Call of Duty story set in iconic World War II battles.

Multiplayer marks a return to boots-on-the ground Call of Duty gameplay, immersing the player in World War II like never before. Authentic weapons, traditional run-and-gun action, and exciting modes of play immerse gamers in historic World War II-themed locations, and thrilling Multiplayer action.

Co-operative mode unleashes an original story featuring a dark new enemy in an experience full of unexpected, adrenaline-pumping moments. (to be revealed soon)

Story Campaign

Call of Duty: WWII tells the story of heroism on a global scale, through the unbreakable brotherhood of common men fighting to preserve freedom in a world on the brink of tyranny. Players enlist in a gritty, intense campaign through the harrowing battlegrounds of war, facing overwhelming odds and hostile terrain across Europe, in a gripping experience that honors the history of World War II.

Blockbuster WWII Action – Call of Duty: WWII features the epic scale, cinematic moments and intensity that only Call of Duty delivers, all set against the backdrop of the largest global conflict in history. The game redefines World War II for a new generation, delivering an experience that was not possible on previous systems.
Camaraderie – Featuring a global cast of characters across Europe, players will follow the gripping story of Ronald "Red" Daniels, a young United States Army private, as he and his squad, the legendary US 1st Infantry Division, trek through the harrowing European theater of war. Joining Allied forces from the U.K. and the French Resistance, across the beaches of Normandy, to the liberation of Paris and ultimately into Germany, the squad must fight alongside a global and diverse cast of characters to achieve victory. The story campaign delivers the gritty authenticity and cinematic intensity of WWII combat, honoring the unforgettable heroism of the Fighting First.
An Immersive Gameplay Experience – Call of Duty: WWII brings to life some of the most iconic moments of World War II, including the D-Day Invasion of Normandy and the Battle of the Bulge, with incredible visuals and aweinspiring sound that puts players in the middle of the action.

Multiplayer

Call of Duty: WWII Multiplayer brings Call of Duty back to its roots with heart-pumping, iconic boots on the ground gameplay, bringing new levels of immersion and excitement to the Multiplayer experience. Players will face grounded, chaotic combat featuring an arsenal of classic weapons across many of World War II's most iconic locations, bringing the harsh brutality of the war to life, while immersing the player in the intensity and emotion of the greatest conflict in history. Call of Duty: WWII offers players bold new experiences, exciting new ways to play, and innovative new opportunities to socialize and showcase their accomplishments with friends and the Call of Duty community.

Multiplayer combat immerses players in grounded, fast-paced action featuring an arsenal of authentic weapons and equipment, set in some of the most iconic locations in World War II's European theater. Multiplayer also delivers a new approach to character and create-a-class through Divisions, War, an all-new narrative multiplayer mode of play, and Headquarters, a first of its kind for the Call of Duty social community, designed for players to interact and socialize with friends. The definitive World War II next generation experience also introduces Nazi Zombies, an all-new cooperative mode featuring a unique standalone storyline set during World War II that's full of unexpected, adrenaline-pumping action. Look for more information about Multiplayer at E3 and the Nazi Zombies cooperative experience at a later date.

Headquarters – Offering a robust social space dedicated to engagement off the frontlines, Headquarters paves the way for all-new avenues of Multiplayer interaction, recognition and awards unlike anything experienced in the franchise to date.
Divisions – A new way to engage in a player's Multiplayer career – Divisions immerse players in the heroic journey of enlisting in the world's most historic war. Choose from a variety of Divisions, including Infantry and Armored Divisions.
War Mode – A new Multiplayer experience that immerses players in iconic World War II battles, where Allied and Axis clash in team-driven gameplay in the fight for strategic objectives.
Boots on the Ground Gameplay – Multiplayer marks a return to iconic boots on the ground Call of Duty gameplay that fans know and love, featuring an arsenal of World War II-era weapons, and fast-paced, heart-pumping, intense run-and-gun action.

Co-operative Mode

Call of Duty: WWII's co-operative mode unleashes a new and original story, in this next-level standalone game experience full of unexpected, adrenaline-pumping moments.

*To be announced soon

Pre-Orders and Editions

Call of Duty: WWII pre-orders at participating retailers includes access to the Private Beta, available first on PlayStation 4, scheduled for later this year. Call of Duty: WWII is available for pre-order in the following editions:

Base Edition and Digital Base Edition – Suggested Retail Price $59.99.
Digital Deluxe Edition – Season Pass** and more, SRP $99.99.
Pro Edition – Season Pass**, collectible SteelbookTM and more, SRP $99.99.

Check local retailers for availability of all Call of Duty: WWII Editions.

**Season Pass purchasers receive 2018 Call of Duty: WWII Season Pass content. Season Pass content is not final, is subject to change, and may not include all downloadable content available for the game. Season Pass content may not be available in all countries, and pricing and release dates may vary by platform. Season Pass content should be downloaded from the in-game store only; do not purchase separately, or you will be charged again. Season Pass content may be sold separately.
Watch the trailer below. View the screenshots at the gallery.