Bandai Namco announces Code Vein, a new action RPG from the God Eater team [Update]
Official reveal set for April 20.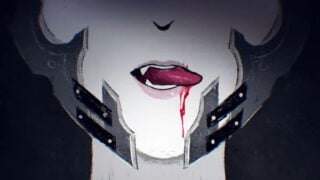 The latest issue of Weekly Famitsu reveals Code Vein, a new "dungeon exploration-type, hard action RPG" from Bandai Namco developed by the team behind God Eater. It is due out in 2018 for unannounced platform(s).
Code Vein was first teased via a short video last week. An official worldwide reveal is set for April 20.
The game is set in a near future where everything has gone to ruin. Players are Revenants, vampires that possess supernatural abilities, that will take on the truth of the world while working together with allies.
In order to survive, Revenants live in an isolated society called "Vein." The Revenant is a being that has transcended humanity, but as a result has lost most of their memories. A Revenant who is short on blood will turn into a monster called a "Lost."
One of the main features of Code Vein is the "Buddy" system. When exploring dungeons, you can bring a single partner along.
Revenants mainly use close-range weapons such as great swords and one-handed swords. Other weapons such as spears and hammers also exist.
Here are a pair of key terms:
Blood Veil – The Blood Veil is a Revenant-original piece of equipment that sucks up the blood of Losts. It's usually shaped like clothing and functions as armor. A dedicated mechanism appears at the time of blood sucking, and the user's mask sees an ominous change.
Special Ability: "Tempered Blood" – An action that can be triggered after a successful blood sucking attack via the Blood Vale, and that depends on the blood obtained from the Lost. There are a number of variations, such as strengthening yourself, weakening enemies, and direct attacks.
Staff working on the project includes:
Producer: Keita Iizuka
Director: Hiroshi Yoshimura
Project Team Leader: Yusuke Tomizawa
Development is currently 35 percent complete. A trailer will be revealed shortly, likely when the game is officially announced on April 20.
Thanks, Hachima Kikou.
Update 8:40 a.m.: More information has come in.
The game is being made as a new challenge on a separate development line from the God Eater series.
Regarding whether it is related to God Eater, Iizuka said: "We are developing it as a new title that offers a new game experience."
"Vein" refers to the English word "vein." "Code" is "code." The impression here is "codes of blood."
The title implies there is a hidden truth in the closed world players will explore, Vein.
The name of the genre is "dramatic exploration action RPG." The "exploration action RPG" genre has players tensely exploring seamlessly connected areas on foot, which offers a great sense of accomplishment. The team put a lot of thought into how it could improve on that formula.
By traveling with a buddy, you can overcome great challenges that you might give up on if you were playing a highly difficult game on your own, and feel a greater sense of accomplishment.
Buddies act on their own, but it will also be necessary for the player to take action to help their buddy.
The game engine is Unreal Engine 4.
They still can't say which platform(s) it will support. But it will be released for console.
A gameplay trailer will be released in early May.
This is a Japanese title aiming for a worldwide release.
As team leader, Tomizawa will oversee both God Eater and Code Vein.
Thanks, Hachima Kikou.