Arms launches June 16
Equip two types of customizable Arms and duke it out.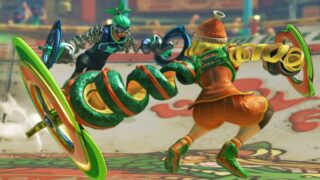 Arms will launch for Switch in North America, Europe, and Japan on June 16, Nintendo announced.
In addition, special Neon Yellow Joy-Con controllers and Joy-Con Straps will be released separately on the same day alongside a Joy-Con AA Battery Pack accessory.
Here is the latest information on the game, via Nintendo:
One of the biggest features in the upcoming fighting game is the ability to equip two types of customizable Arms per fighter. These Arms range from standard gloved Arms to curved weapons like boomerangs. Each Arm has a special attribute like fire, ice or electricity that activates when delivering a charge punch. As players fight through the game, they will earn in-game currency that can be used to play the Arm Getter, a fun mode in which they can get new Arms for their fighters. The fast-paced game can be played in 1-v-1 matches or even 2-v-2* for more entertainingly chaotic battles. During the Nintendo Direct presentation, a new character was also revealed: the super-fast, ramen-armed Min Min.
Watch a new overview video below. View a new set of screenshots at the gallery.