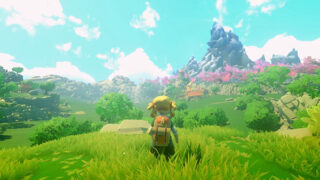 Yonder: The Cloud Catcher Chronicles, the open-world adventure game from Prideful Sloth, will launch for PlayStation 4 and PC on July 18, the developer announced.
The game, developed by a team of former Rocksteady developers and an Activision producer, follows a youth shipwrecked on the shores of Gemea, an expansive locale with eight different environments, each offering its own wildlife and ecosystem, ranging from "sunny sandy beaches to rolling grassy plains and steep snow-capped mountains"
The isle, however, is enshrouded by an evil fog slowly destroying paradise. Players will build relationships with the locals and earn help in their journey to restore Gemea by supporting residents through talents such as fishing, farming, crafting, brewing, and cooking.
Watch a new trailer below.