Star Ocean: Till the End of Time for PS4 launches March 31 in Japan
PlayStation 4 version to cost 2,800 yen.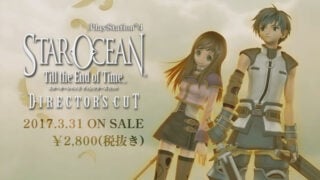 The PlayStation 4 version of Star Ocean: Till the End of Time will launch in Japan on March 31 for 2,800 yen, Square Enix announced.
Announced last month, the PlayStation 4 release is effectively a standard PS2-on-PlayStation 4 title. It uses PlayStation 4's PS2 emulator to up-render the game in high-definition with less jaggies and better lighting. It also supports trophies, share features, remote play, and lessens load times.
A western release has yet to be announced, but Square Enix recently trademarked "Till the End of Time" in Europe, suggesting it is planned.