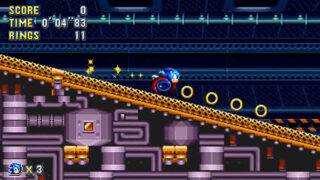 Sega has delayed Sonic Mania from its previously planned spring 2017 release to summer 2017, the company announced at the Sonic the Hedgehog SXSW 2017 panel. It will be available for PlayStation 4, Xbox One, Switch, and PC.
According to Sega, development needs a little more time to meet the quality standards it would like to achieve.
Sega also premiered a new Classic Zone for the game, the "Flying Battery Zone" from Sonic & Knuckles, as well as the game's key art, and tossed around the idea of a Sonic the Hedgehog vinyl.
Watch the Flying Battery Zone reveal trailer below.
Update 03/17/17 at 11:30 a.m.: View the direct-feed version of the key art, as well as a silhouette of the game's "Hard-Boiled Heavies" bosses, at the gallery.