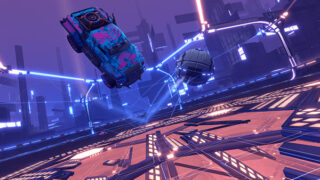 Rocket League will add a free new mode called "Dropshot" on March 22, developer Psyonix Studios announced.
The mode includes a new arena called "Core 707," where players must smash through the floor to score.
Dropshot includes the "Core 707" arena, where players must break through hexagonal floor panels with an electrified ball to create and score goals through the gaps. Each panel can be hit by a ball twice—the first hit activates the panel, while the second breaks the panel. The electrified ball has three different faces, each more powerful than the last, that determine how much damage is done when the ball smashes into the floor panels.
Watch the reveal trailer below.