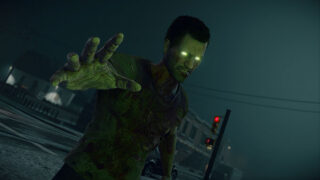 Capcom will release the "Frank Rising" downloadable content for Dead Rising 4 on April 4 for $9.99 or as part of the Season Pass, publisher Microsoft announced.
"Frank Rising" features a new single-player story that explores what happens to Frank after a new outbreak in Willamette. Here's an overview:
Frank is infected and wanders the city beaten, bloody and driven only by a need to feast. When a former ally discovers him, he is written off as incurable. Luckily, he'll find help from an unlikely resource. As Frank begins to recover he'll need to race to find a permanent cure while developing all-new abilities and strength. Unfortunately, he can no longer eat food to stay alive and must feast on others to survive. As he is trying to save himself, Frank learns that several survivors he cares about are trapped in the city with him and he must rescue them – and himself – before the government closes his case file for good and wipes the city off the map.
Following the release of "Frank Rising," Capcom will release "Super Ultra Dead Rising 4 Mini Golf," another add-on that sees Frank take to the golf course. A release date has not been announced, but it will cost $9.99 and is also included with the Season Pass. Here's an overview:
With multiple holes of pure wanton destruction, in Super Ultra Dead Rising 4 Mini Golf players will flip zombies the bird as they navigate the greens in the Willamette Mall and surrounding town. Unlock specialized golf clubs, costumes and balls as Frank West provides play-by-play commentary for swings, birdies, and shots. Collect Power-Ups to take the game to the next level and take out zombies with explosive style while keeping swings low and the kill count high. Hone course skills to perfection in single player, fight for the high score online in a 4-player multiplayer, or join friends in your living room with turn-based co-op.
Dead Rising 4 is available now for Xbox One and PC.