8-Bit Bayonetta released for PC via Steam, achievements lead to countdown website
Countdown apparently ends on April 11.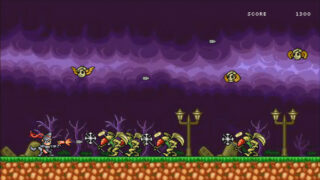 Sega has released a new game called 8-Bit Bayonetta for PC via Steam as a free download.
Pairing up the images of the game's "In the Face" and "High Score" Steam achievements reveal the following URL: sega.com/14111219. Visiting the URL brings you to a countdown website that has yet to begin. The numbers in the URL, 14111219, are Bayonetta the character's birthday, December 19, 1411.
The source code of the website reveal the countdown is powered this Javascript, which contains the code "lastDate: '04/11/2017 08:00:00," suggesting the end date for the countdown is April 11 at 8:00 a.m. PDT. (Update: The timer has begun with 10 days and 11 hours on the clock.)
Tomorrow is April Fools' Day and the release of 8-Bit Bayonetta is clearly a reference to that, but it seems Sega is actually teasing something here. The original Bayonetta was never released for PC, so perhaps we'll finally see a PC version released?