Princess Maker Refine coming to PC via Steam in mid-February
The original Princess Maker... refined!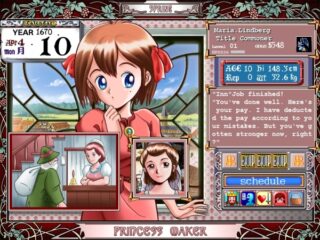 Following the release of Princess Maker 2 Refine for PC via Steam, CFK today announced it will bring Princess Maker Refine to PC via Steam in mid-February for $9.99.
Here's an overview, via CFK:
The Princess Maker Series

The Princess Maker series has introduced the concept of "raising your own daughter" as the first lifetime simulation game featuring an interesting story which depicts adopting a 10 year-old girl and raising her to be a fully grown lady, and still holds long-lasting and firm fandom. The phenomenal success of the first Princess Maker seeded the birth of Princess Maker 2, which brought on a huge scale of public success, and serial success stories have been carved alongside the Princess Maker series afterwards.

Raise Your Daughter with Love

You are teh hero who saved a kingdom on the verge of eternal ruin by evil entities. Weary by mass genocides and destruction, you decide to adopt an orphan. From this day forward, you are the father of a beautiful young girl.

Fully Refined Visuals

Princess Maker Refine is reincarnated by the graphical makeover of turning original 16-color graphics to re-touched full color supervised by original author Takami Akai. This work led by classical charms will not turn more lovely with vivid beauty. Voice dubbing also arrived as a new addition to the gaming experience in hopes you will be more connected to your lovely daughter.
Watch a teaser trailer below. View the first screenshots at the gallery.